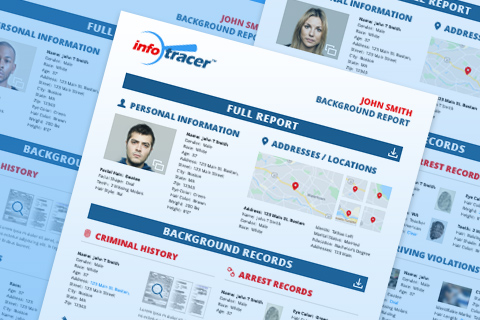 Our Reports
We support insurance agents and brokers by uncovering contact data, date of birth, business associates, relatives, friends, neighbors, and more. This helps them connect and double-check crucial pieces of information from multiple sources. After running an InfoTracer online search, you can immediately access the findings in professional reports stored inyour dedicated Member's Area, or download and print them as PDF reports.
Close

By tapping into our original database of 5 billion records, covering over 96% of the US adult population, insurance agent scan streamline their investigations and significantly narrow down searches. This collection of both present and chronological data is one of the most accurate and up-to-date in the industry. Make your insurance-related investigations, people search, skip tracing, or business search as effectiveand as well-timedas possible. We ensure rapid access to a wide scope of information your business might need, with searches that feature the following:
Names and aliases
Phones and emails
Family members, business associates, relatives
Recent and up to 20 years of previous address history
Lienholders, debtors
Bankruptcies
Judgments
Criminal records
Arrest warrants
Traffic violations
National and state court searches
Property and assets
Marriages and divorces
Possible employers
Professional licenses
Voter registration info
US corporate and professional affiliations
And More!