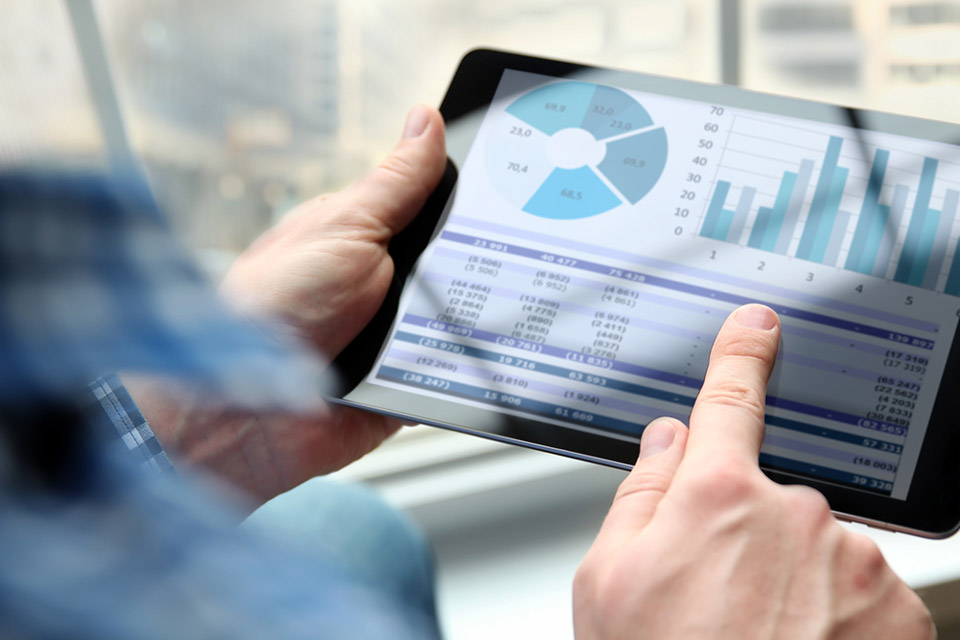 InfoTracer Business Solutions:
The Preferred Information Search
Database For Financial Services
In today's fast-paced world, customers demand rapid, transparent, and optimized assistance from their financial services provider. Whether you are a bank, investment firm, or insurance agency, you need to update your business practices constantly while implementing fraud protection tactics to keep all transactions safe. The only way to do that is with better data.
According to recent research by the McKinsey Global Institute, financial institutions with access to better data excel in four key areas:
Increased operational efficiency
Better fraud prediction
Improved workforce allocation
Reduced friction in data intermediation
Unfortunately, aggregating and verifying data is incredibly time-consuming. Once you do find the information you need, you still have to organize it in a way that's useful to you and your customers. All this time could be better spent on customer acquisition, building business relationships, and identifying instances of fraud.
There are many different issues your company faces that could be solved with the right information search technology:
Knowing your customers on a deeper level
Finding hidden assets and liabilities of your customers
Conducting background searches on partners
Finding out-of-state incorporated entities
Fraud prevention and risk management
Looking for bankruptcies, liens, and judgments
There are plenty of information search services you can utilize to find your data, but not all are reliable. Some search engines source their information from outdated or unverifiable databases. Even if they do happen to find quality data that may be useful, they often require a monthly subscription or constantly recurring fees. You need a service that provides you with verified data for an affordable price, so you can ensure that your financial business thrives. InfoTracer Business Solutions is that service.
No Subscriptions, No Monthly Minimums, No Hidden Fees
No Credit Card Required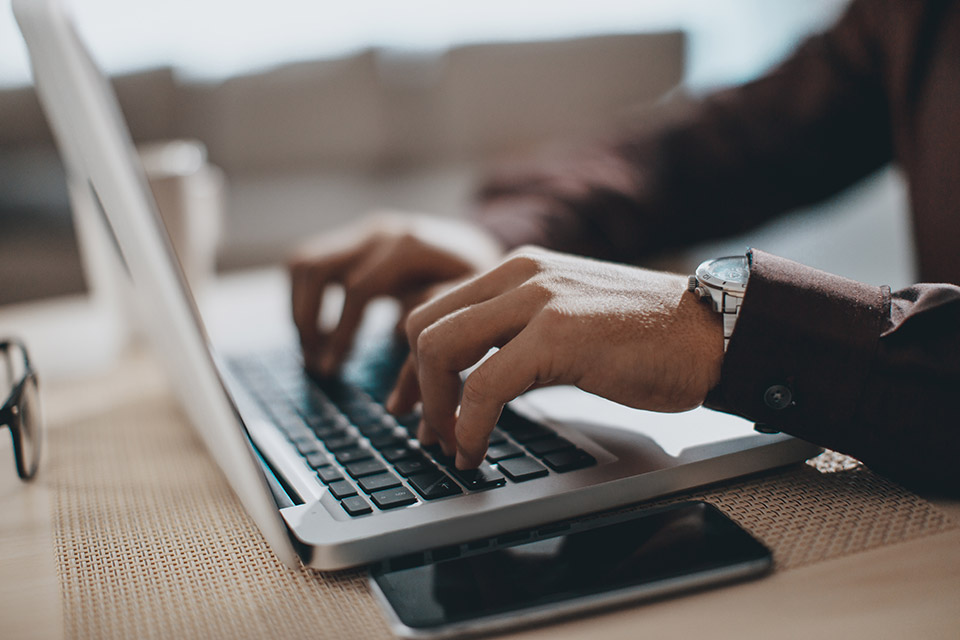 We Can Help You
Find Verified Information, Fast
InfoTracer Business Solutions offers cutting-edge technology combined with pay-per-search purchasing. Our business thrives when yours does, and we want you to optimize every process you can. Our service can help you with countless tasks, including:
Investigations and Due Diligence
Customer Acquisition Solutions
Risk Management
Payment Efficiency
Identity Management and Fraud Prevention
We have the resources to find information usually reserved for governmental agencies or large-scale corporations. For small to midsize institutions, this data is generally quite expensive. With our cost-shared payment structure, we can offer high-end reports for competitive and affordable prices. Many customers prefer pay-as-you-go as opposed to a subscription model. With InfoTracer Business Solutions, you only pay for the searches you make.
For example, let's say you need to find a complete background history on someone. While some services require a monthly or yearly plan to conduct a single search, our company will give you a comprehensive property records report for a one-time payment of $5.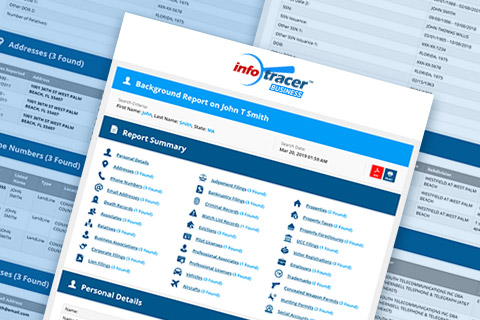 What Information Do These Reports Contain?
For only $5, InfoTracer Business Solutions will present these data points in a cohesive document (when available):
Property Owners
Property Details
Value
Sales History
Mortgage Records
Property Tax
Town Information
Photos
But that's just one of our many search solutions; for a full report on an individual or business, you'll want to use our comprehensive Business and Background Reports.
For $25, our Background Business Reports will show you countless pieces of useful information, including:
Business Name
Owner's Name
Agent's Name
Filing Dates
Consent Files
Owner's Profile
Public Records
Bankruptcy Files
Entity Types
Activity Lists
Partnerships
Business Address
Owner's Address
Agent's Address
Document Numbers
Profit Status
Fiscal Information
Annual Reports
Business Reports
State Databases
Liens & Judgments
For a one-time payment of only $20, our Background Report will show you:
Address Details
Phone Numbers
Neighbors
Address Summary
Bankruptcies
Liens
Judgments
Business & Corporate Affiliations
Auto-Ownership
UCC Filings
Aircraft Records
Pilot Licenses
Hunting Permits
Weapon Permits
Evictions
Employers
Cities & Counties History
Professional Affiliations
Professional Licenses
Marriages & Divorces
Current and Past Property Deeds
Property Records
Relatives & Associates
Driver's License Info
Trademarks
Voter Registration Info
Political Contributions
Social Profiles
Criminal Records
And More!
As a financial institution, you'll need data concerning bankruptcies, liens, and judgments. For only $5, we provide reports that can give you relevant details to solve any issue.
Our Bankruptcy, Liens, and Judgments report contains, when available:
Personal Details
Name
Social Security Number and any flags on it
Filing State
Filing Address
Filing Details
Filing Number
Filing Date
State
Amount
Type
Group
Tax Lien or Bankruptcy Type
Docket Number
Unlawful Detainer (Yes/No)
Initial Date, Amount & Docket
Judgment Date, Amount & Docket
Remove or Dismissal Date & Docket
Asset Amount
Liability Amount
Plaintiff
If you need a person's complete criminal history, InfoTracer Business Solutions can help with that as well.
Our Criminal Records Report is only $5, and can show you essential suspect and criminal details including:
Name
DOB
Gender
Age
Address
Arresting Agency
Crime County
Classification
Offense Code
Counts
Court
Plea
Disposition
Charges Filed Date
Disposition Date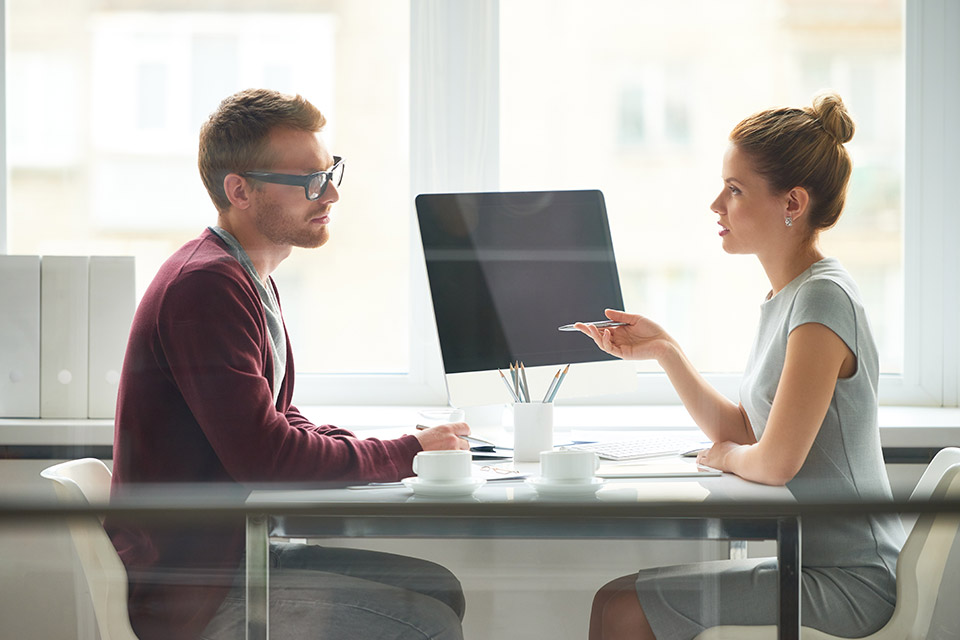 How Would This Information Search
Functionality Be Beneficial?
There are countless ways to make daily tasks easier to compete with access to advanced search technology. We've highlighted a few specific benefits InfoTracer Business Solutions provides that can help you increase efficiency and optimize your workflow.
Improve Due Diligence
Before making an investment of any kind, you need to conduct due diligence through and complete research. With our proprietary search tech, you can get vital details about any company or person you plan to do business with. Having a better idea of who and what you're dealing with can let you accurately assess risk, prevent fraud, and make better financial decisions.
Instantly Authenticate Consumers
Whether you are validating an account setup or verifying a customer's identity, the authentication process is a central component of most financial operations. Our advanced search tech can help you find essential details about an individual to create an accurate customer profile.
Increase Proper Resource Allocation
Allocating resources is a delicate balance, and you want to give your team enough time to accomplish each of their objectives. With better information search tools, you can save time and labor by increasing your research speed. This leaves more time for other tasks and lets you focus on giving your customers the best experience possible.
Identify and Prevent Fraud
Criminal acts of fraud are a significant risk for any financial institution, and proper data acquisition is the best preventative measure you can take. By operating off of up-to-date and reliable information, you can identify potential scammers before they strike. Our search tech can help you verify a person's identity before they set up fraudulent accounts. You can also determine whether someone is trying to use a stolen identity with our Person Search.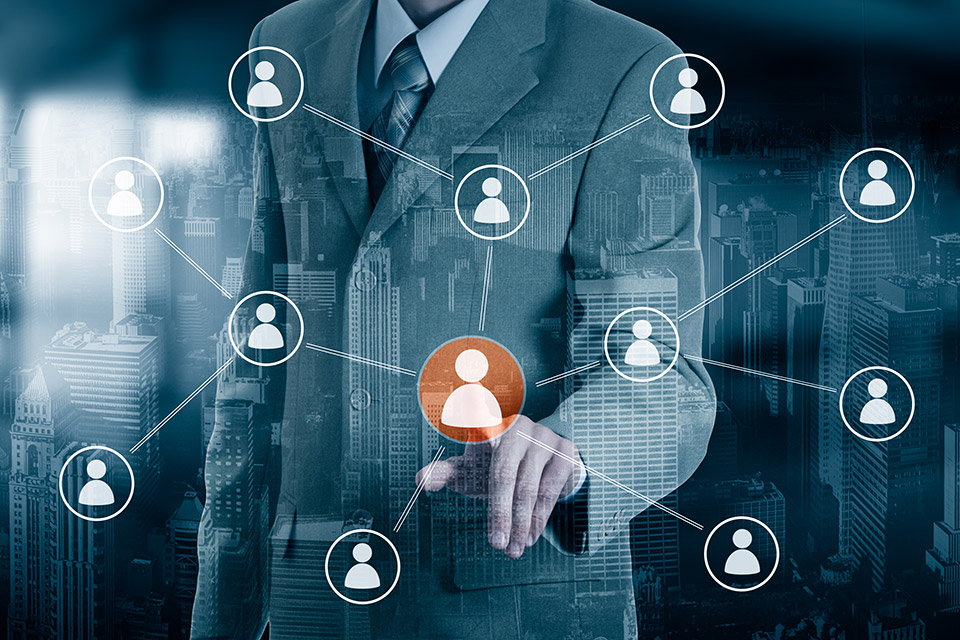 What Is A Person Search?
One of our flagship products, the Person Search, will scour thousands of databases and public records to compile a report about any individual you choose. You can conduct these searches with sensitive information like a social security number, or minor details like someone's name, phone number, home address, or email address.
For only $1.50, the Person Search can find details like:
Social security number (last four digits)
Date of birth
Current and previous addresses
Deceased report
All known phone numbers
Relatives and associates, along with their phone numbers and emails
Driver's license information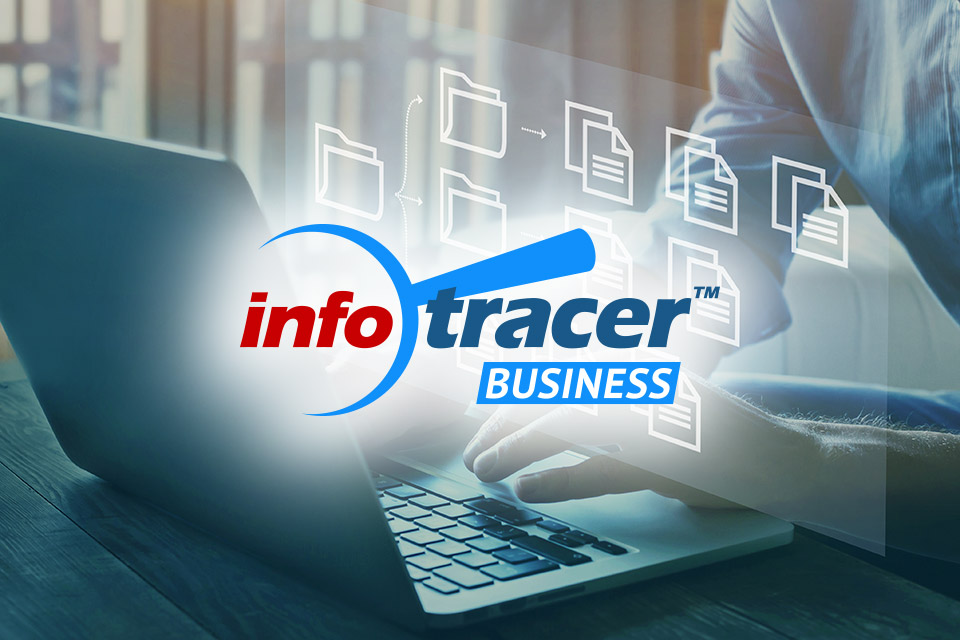 InfoTracer Business Solutions:
Data Designed To Increase Efficiency
Customers prefer our business because our products are accurate, effective, and competitively priced. We use high-level access databases and cross-check each piece of information before creating our reports. At InfoTracer Business Solutions, our sources are constantly updated to give our customers access to new verified data daily.
Our world-class customer support will guide you through our simple onboarding procedure; then, you can instantly begin using our advanced information search engines to find the data you need for tasks like identity verification, risk management, and fraud prevention. If you have any questions about our service, don't hesitate to contact us. Our support agents are standing by to help you solve any problem.
There is no fee to sign up, no minimum payments, and no monthly subscription. You only pay for the searches you make, keeping your business under budget and improving your bottom line.
Don't waste time endlessly combing through files to find and verify the information you need. Instead, let us help; Try InfoTracer Business Solutions today!
Sign Up Today & Receive
$25 Free Search Credits