InfoTracer Business Solutions:
Validate Any Social Security
Number Quickly And Easily
With fraud and identity theft on the rise, individual verification is essential. According to a report published by the Federal Trade Commission, instances of fraud have skyrocketed over the last 20 years; citizens filed around 300,000 reports in 2001, which rose to almost five million in 2020. A large majority of these are identity thefts, where scammers use personal information like social security numbers to impersonate citizens for criminal gain.
Fraud can affect companies as well, and confirming an individual or business is legitimate can take hours of fact-finding. This process is especially challenging for small to midsize companies, as they have more limited resources and time to dedicate to gathering data.
There's also the issue of access; governmental agencies and large corporations can use high-level databases, which can be very expensive. While some services may offer you the ability to utilize this data, it may come with some disadvantages like:
Monthly Subscriptions
Hidden Charges
Minimum Payments
Recurring Charges
Data Limits
This leaves smaller businesses to operate on inaccurate and unverified data, unable to verify important details like social security numbers. It also leaves them open to the risk of fraud.
No Subscriptions, No Monthly Minimums, No Hidden Fees
No Credit Card Required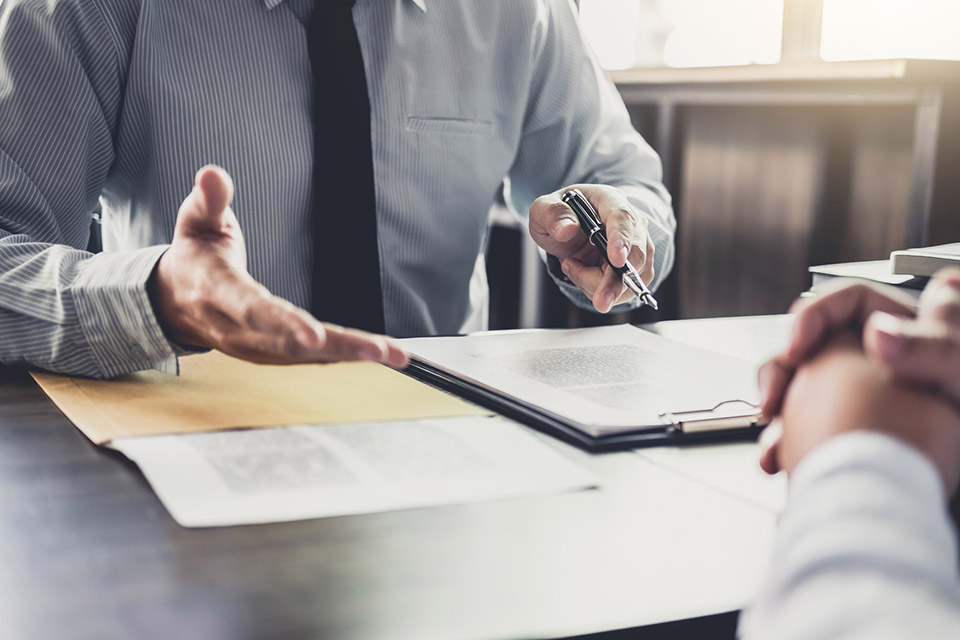 How Do I Solve This Problem?
Scraping through databases can waste valuable time and incur high labor costs. Once you find the data you need, there is still the matter of verifying and cross-checking each detail to determine its usefulness. That's where InfoTracer Business Solutions comes in; we take the entire process off your hands and deliver to you comprehensive reports you can use to solve any issue.
Our mission is to provide the same data available to those large corporations at a far more affordable price. Using a cost-shared payment structure, we've been able to do away with the subscription-based model that plagues so many modern industries. With our service, you only pay for the searches you make.
Each search will yield a complete and accessible report containing everything you need to identify a person or business. Whether it be our Social Security Number Validator, Background Business Report, Background Report, or any other of our search solutions, we help you ensure that the data you receive is accurate and up-to-date.
View Sample Report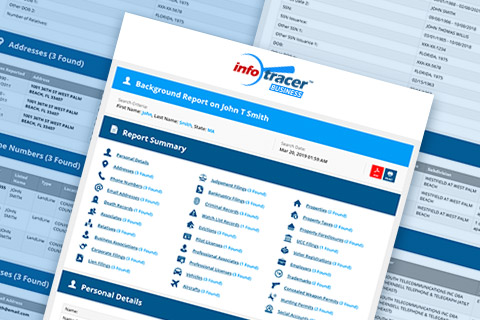 What Information Will These Reports Contain?
For a one-time payment of $1.50, our Social Security Number Validator will show you all the available information on a given individual, including:
SSN info
Date of birth
Address
Full Name
Age
Known phone numbers
Relatives & associates
Relative's emails
If you want to build a more complete profile about a business or individual, InfoTracer Business Solutions can help with that as well. Our comprehensive Business and Background Reports will give you a variety of essential details you can use for your verification process.
For a one-time payment of only $20, our Background Report will show you when available:
Address Details
Phone Numbers
Neighbors
Address Summary
Bankruptcies
Liens
Judgments
Evictions
Employers
Cities & Counties History
Professional Affiliations
Professional Licenses
Marriages & Divorces
Current and Past Property Deeds
Property Records
Business & Corporate Affiliations
Auto-Ownership
UCC Filings
Aircraft Records
Pilot Licenses
Hunting Permits
Weapon Permits
Relatives & Associates
Driver's License Info
Trademarks
Voter Registration Info
Political Contributions
Social Profiles
Criminal Records
And More!
If you want to delve deeper into a particular person's financial or criminal history, we can assist with that too. Do a deep dive on an individual with our Bankruptcy, Liens, and Judgements report or our Criminal Records Report.
Our Bankruptcy, Liens, and Judgments report contains, when available:
Personal Details
Name
Social Security Number and any flags on it
Filing State
Filing Address
Filing Details
Filing Number
Filing Date
State
Amount
Type
Group
Tax Lien or Bankruptcy Type
Docket Number
Unlawful Detainer (Yes/No)
Initial Date, Amount & Docket
Judgment Date, Amount & Docket
Remove or Dismissal Date & Docket
Asset Amount
Liability Amount
Plaintiff
Our Criminal Records Report is only $5, and can show you essential suspect and criminal details including when available:
Name
DOB
Gender
Age
Address
Arresting Agency
Crime County
Classification
Offense Code
Counts
Court
Plea
Disposition
Charges Filed Date
Disposition Date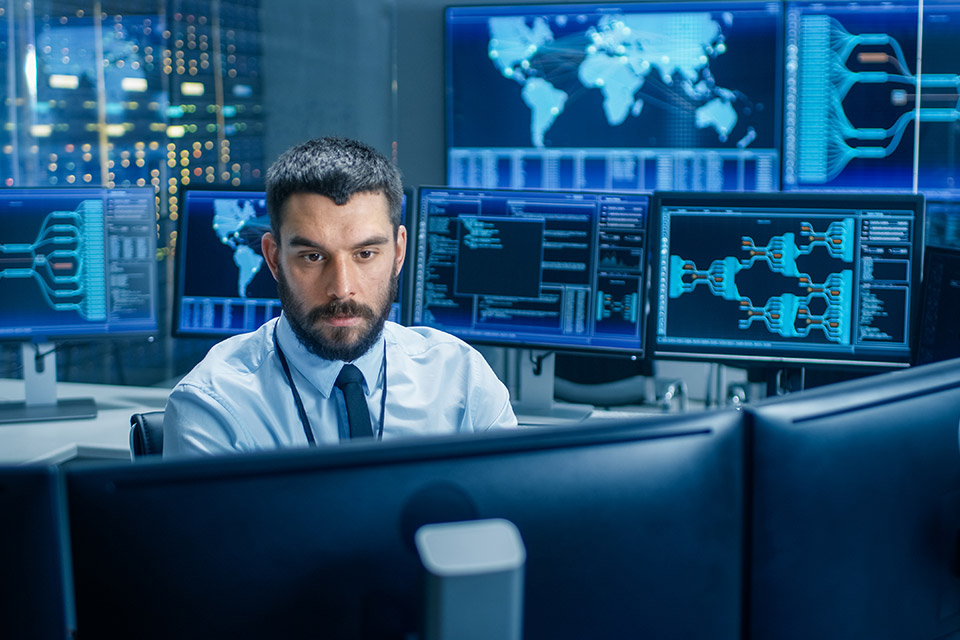 What Industries
Would Benefit From This Service?
Any industry can be optimized by advanced search technology; with better data retrieval comes higher efficiency, lower costs, and more informed decision-making. We've highlighted several industries where our proprietary technology can increase efficiency and make daily tasks easier to accomplish.
Private Investigators
While movies may make private investigation seem glamorous, with extravagant car chases, stake-outs, and interrogations, the reality can be far more grounded. A large part of an investigator's job is dutiful research, and verifying data can be time-consuming and tedious. With InfoTracer Business Solutions, we can do that leg-work for you; that way, you can dedicate more time to the activities that demand focus.
Skip Tracers
Tracking down individuals who don't want to be found is complex and requires a massive amount of accurate information. So whether you are looking for runaways or scam artists, you need the best tools possible to get the job done. Our search technology can help you conduct thorough background checks, find relationships connected to an individual, and increase your rate of closed cases.
Accountants
Dealing with facts and figures is what an accountant does, but working with insufficient data can prevent you from accomplishing your goals. With InfoTracer Business Solutions, you can find any piece of information you need on an individual or business. That way, you can identify fraudulent activities and provide better service to your clients.
Financial Institutions
A large part of a financial institution's operations involves proper due diligence. Before making investments or entering into partnerships, you need the tools to conduct extensive research. With InfoTracer Business Solutions, you can get the data you need to assess risk, authenticate customers, and prevent instances of fraud.
Healthcare Providers
Whether you are a primary care physician, a hospital, or any other health-care related business, our search solutions can help you give patients the assistance they need. Our verified databases will allow you to build complete patient profiles. By cross-checking our data, we ensure you won't be working with outdated or inaccurate information. That way, you can focus on providing better patient care.
Insurance Carriers
An insurance carrier has countless tasks to focus on; dealing with claims, pricing, and managing accounts can soak up hours of time. However, when it comes to verifying information, there is rarely the labor left over to sort through multiple sources. If you want the tools to validate claims and provide your policyholders with the best possible service, our search functionality is just what you need.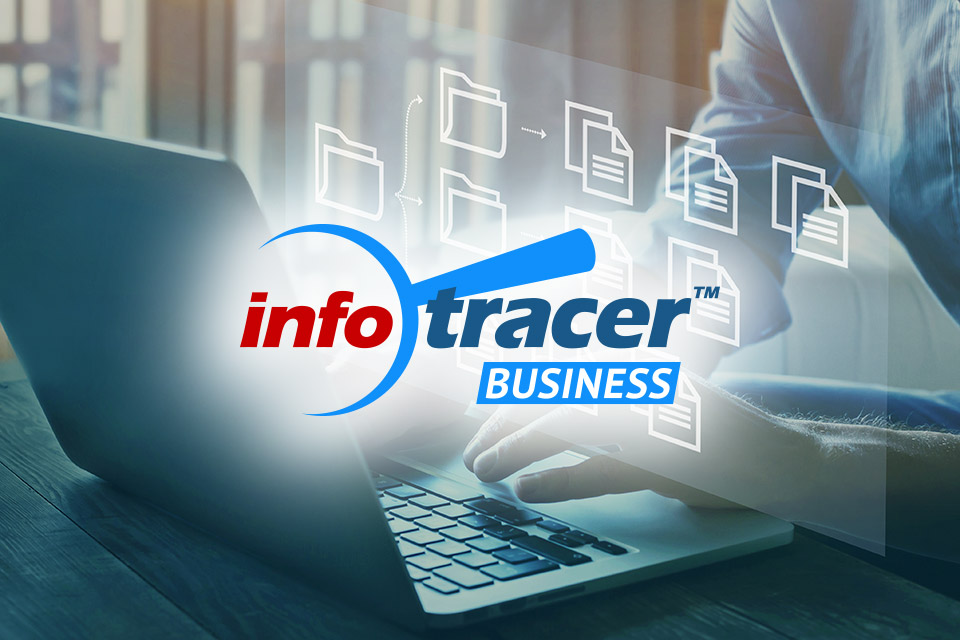 InfoTracer Business Solutions:
Rapid Validation And Accurate Data
If you want to save your business time and money while working with the best data on the market, InfoTracer Business Solutions wants to help. We've designed our pricing structure to exceed the industry standard; while most services will require monthly subscriptions or minimum fees, our customers only pay for the searches they make.
Using cost-shared access, we can offer you excellent per-search prices, like:
If you want to optimize your business and offer your customers the best possible experience, don't wait. Try InfoTracer Business Solutions today!
Sign Up Today & Receive
$25 Free Search Credits