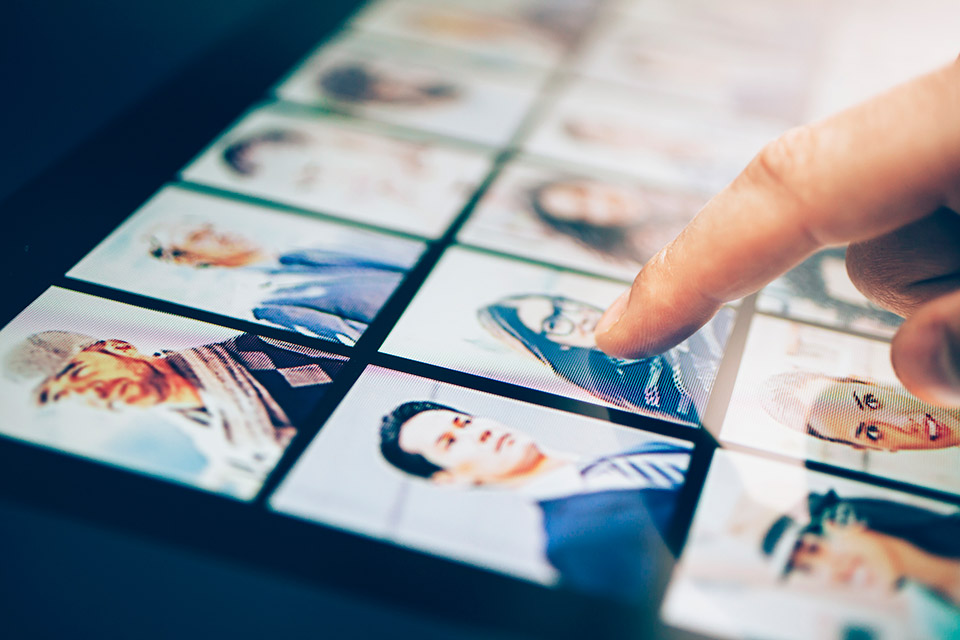 InfoTracer Business Solutions:
Simplified People Search for
Quick Individual Identification
Since the passage of the Freedom of Information Act in 1967, the accessibility of public records has only grown in the last 50 years. This increased access has coincided with a drastic rise in the number of records, with thousands of sources and millions of individual profiles being stored in databases around the country. Finding accurate and up-to-date records on a single individual can be an arduous task, with most services requiring a variety of unrealistic prerequisites before you can find the information you seek. These requirements include:
Subscribing to their service on a monthly basis
Paying a series of recurring charges
Dealing with hidden fees
Putting up with a limit on data
Making minimum payments
For small and medium-sized businesses, these extraneous charges can make these services impossible to utilize. Without high-quality data, these businesses are unable to make the same informed financial decisions, and often open themselves up to a far higher risk of fraud.
No Subscriptions, No Monthly Minimums, No Hidden Fees
No Credit Card Required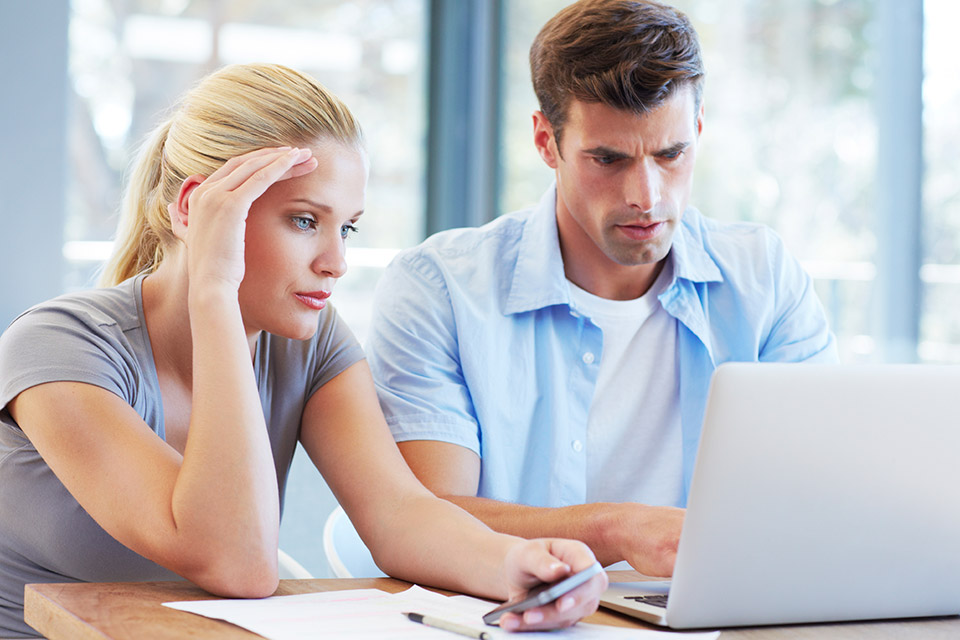 How Do I Solve This Problem?
You want to find the information you require, but a high cost could do irreparable damage to your budget. Even if you do find the data you need, you'll need to spend more time confirming and cross-checking each detail to make sure you can use it. The best way to solve this problem is with InfoTracer Business Solutions.
With InfoTracer Business Solutions, your data is retrieved from thousands of sources, confirmed for accuracy, then distilled down into an easy-to-read report. Our goal is to give small businesses the same data available to large corporations at an affordable price. We've accomplished this by designing our pricing structure from the ground up using cost-shared access. This way, we can avoid the subscription model that has spread to countless modern industries. With us, you only pay for the searches you make.
Each of our reports will provide you with all the available information on a person or business. A good place to start is our Person Search; with this report, we provide a variety of details about an individual to establish complete identification. No matter what report you choose, you can be sure they are built on frequently updated information and first-rate data.
View Sample Report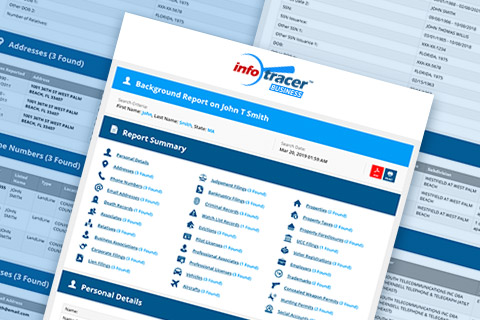 What Information
Will These Reports Contain?
For a one-time payment of $1.50, our Person Search will provide you with essential facts and figures about any given person. All you need to utilize a person search is cursory pieces of information like:
Name
Address
Phone Number
Email
Social Security Number
Driver's License Number
If you find that our Person Search doesn't provide all the details you need, you can expand your research with our Background Reports.
For a one-time payment of only $20, our Background Report may show you:
Address Details
Phone Numbers
Neighbors
Address Summary
Bankruptcies
Liens
Judgments
Evictions
Employers
Cities & Counties History
Professional Affiliations
Professional Licenses
Marriages & Divorces
Current and Past Property Deeds
Property Records
Business & Corporate Affiliations
Auto-Ownership
UCC Filings
Aircraft Records
Pilot Licenses
Hunting Permits
Weapon Permits
Relatives & Associates
Driver's License Info
Trademarks
Voter Registration Info
Political Contributions
Social Profiles
Criminal Records
And More!
Maybe it isn't an individual you are trying to look into, but another business. Well, InfoTracer Business Solutions has got you covered.
For $25, our Background Business Reports will show you countless pieces of useful information, including, when available:
Business Name
Owner's Name
Business Address
Owner's Address
Agent's Name
Filing Dates
Consent Files
Owner's Profile
Public Records
Bankruptcy Files
Entity Types
Activity Lists
Partnerships
Agent's Address
Document Numbers
Profit Status
Fiscal Information
Annual Reports
Business Reports
State Databases
Liens & Judgments
What Industries
Would Benefit From This Service?
Better data retrieval can increase the efficiency of any industry, helping you save time and lower costs. We've highlighted several businesses where our services can help optimize workflow, reduce stress, and increase profits over time.
Law Firms
Whether you are a criminal defense lawyer, family lawyer, real estate attorney, immigration lawyer, or anyone else in the legal industry, you know that research is essential. Conducting proper due diligence on a client and getting all the details for a case can take countless hours, and insufficient information could mean backtracking and losing even more time. With our search solutions, you can be sure you are getting all the data you need to complete your research in record time.
Lodging
Operating a hotel, motel, or B&B is a stressful job; with hundreds or thousands of guests flowing through your establishment, it can be hard to keep track of those engaging in suspicious activity. With InfoTracer Business Solutions, you can investigate problematic guests to find whether they are lying about their identity or hiding a criminal past. That way you can keep you, your business, and the other guests in your hotel safe from harm or fraud.
Private Investigators
The life of a private investigator may sound exciting, but anyone in the private eye business knows that most of your time is spent on tedious research. Instead of wasting time sitting on the computer searching fruitlessly, let us do the leg-work for you. That way, you can dedicate your time to the parts of your job you enjoy and close more cases than ever before.
Accountants
Working with insufficient data can make an accountant's job impossible; with our search algorithms, we can retrieve all the pieces of information you need about an individual or business. With better data comes better fraud identification and an overall higher quality of service for your clients.
Skip Tracers
Tracking individuals is a hassle, and without accurate information it can be nearly impossible. Whether you are trying to locate runaways or criminals, better information means a higher chance of success. WIth our search solutions, you can get vital information like close relationships, current and past addresses, and up-to-date criminal history.
Healthcare Providers
Primary-care physicians, hospital workers, and anyone else in the healthcare industry know that understanding a patient's history leads to a better patient experience. With our cross-checked data, you can be sure your patient profiles are built from only the highest-quality databases. With less time spent on research, you can focus on the most important part of your job: providing the best possible patient care.
Insurance Carriers
Dealing with claims and managing accounts; all of these tasks take up an inordinate amount of time. Instead of wasting labor on endless research, let us help make your job easier. Better data means easier claim validation and customer service, so you can be sure your clients are getting an experience that helps you retain their business for years to come.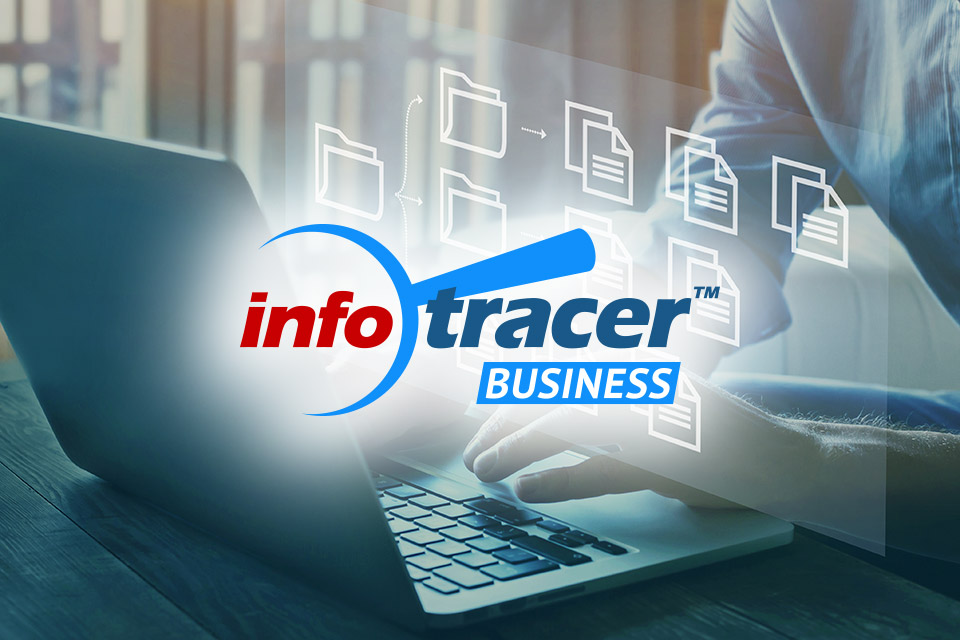 InfoTracer Business Solutions:
Individual Verification
at a Per-Search Price
At InfoTracer Business Solutions, we understand you want the best data available while keeping your budget in check. That's why we've created our pricing structure with your bottom line in mind. Most services will try to sign you up for a lengthy subscription or hit you with endless hidden fees; when you use our search solutions, you only pay for the searches you make.
Using cost-shared access, we can offer you excellent per-search prices like:
Accurate information can optimize any business and start increasing your profit margins, so why wait? Try InfoTracer Business Solutions today!
Sign Up Today & Receive
$25 Free Search Credits