InfoTracer Business Solutions:
Up-to-date and Accurate
Driver's License Lookup
According to a study published by the US National Library of Medicine, 12.5% of high school and 32% of college students in the United States possess fake IDs. The most common fake IDs are driver's licenses. These counterfeit driver's licenses do not disappear when kids get to the drinking age; they are usually exchanged or sold, keeping them in circulation.
While underage drinking is a problem, these fake IDs create a much bigger issue: fraud. Fake driver's licenses can be used by criminals for multiple purposes, including:
Access privileged accounts
Set up new accounts under a different name
Given to law enforcement when arrested
Credit card fraud
Tax fraud
Forgers will often use actual personal details to create these IDs, and it's possible to acquire anyone's private information from various shady sources on the internet. Once created, these IDs can be photocopied and presented as legitimate. So the question is, how can you verify if a driver's license is real or fake?
No Subscriptions, No Monthly Minimums, No Hidden Fees
No Credit Card Required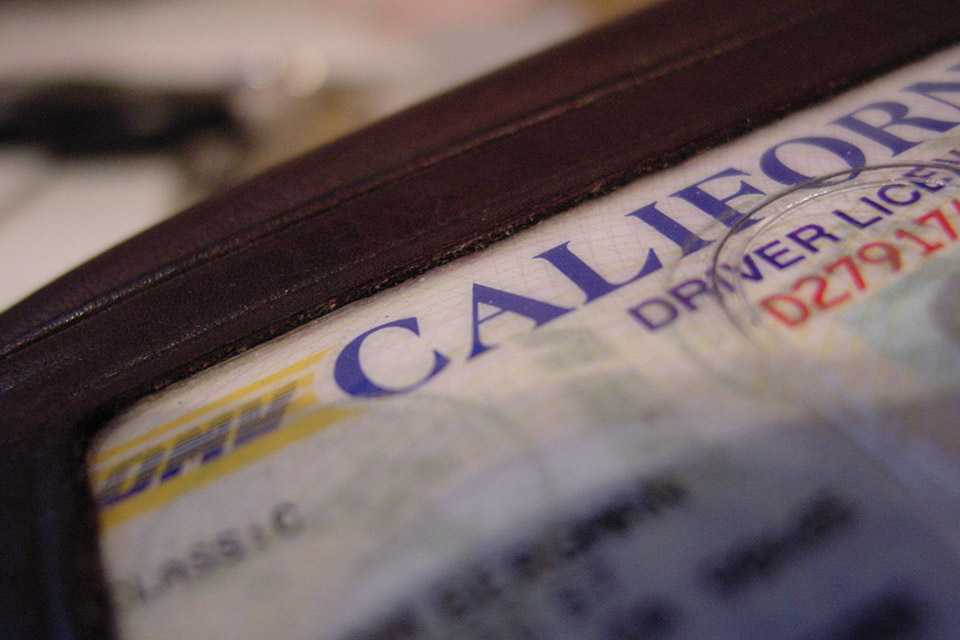 How Can I Verify a Driver's License?
The best way to verify a driver's license is with InfoTracer Business Solutions Driver's License Lookup. Our proprietary algorithms source information from thousands of databases to find what you need at the click of a button. With many search engines, you'll have to deal with a difficult onboarding process, ongoing recurring fees, and subpar data; But with InfoTracer Business Solutions, we provide a service with:
No Monthly Subscription
No Hidden Charges
No Minimum Payments
No Recurring Charges
Easy Onboarding & Expert Customer Service
Verified & High-Quality Data
With many search companies, access is a significant issue. This problem only gets worse for small and midsize businesses, who often don't have the budget to utilize an expensive service to find their information. Fortunately, we've solved this issue with our cost-shared payment structure. You get access to the same high-level data as a major corporation but without the exorbitant fees. In fact, with InfoTracer Business Solutions, you only pay for the searches you make.
Whether you want to conduct a driver's license lookup, validate a social security number, or find more information about any individual or business, we can help. Each search you conduct will yield a comprehensive and accessible report containing many of the details you'll need to satisfy your query.
View Sample Report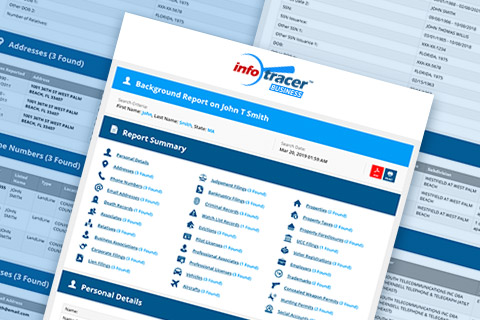 What Information
Will These Reports Contain?
You can conduct a person search with any driver's license number for only $1.50 per report. These reports can give you multiple data points to verify the license legitimacy, including:
Full Name
Last 4-digits of SSN and SSN info
Date of Birth
Current Address
Previous Addresses
Known Phone numbers
Known Emails
Relatives & Associates
Even if you don't possess a driver's license, you can perform a person search with other details, such as:
Name
Phone
Email
Address
Social Security Number
For a one-time payment of only $20, our Background Report will show you when available:
Address Details
Phone Numbers
Neighbors
Address Summary
Bankruptcies
Liens
Judgments
Evictions
Employers
Cities & Counties History
Professional Affiliations
Professional Licenses
Marriages & Divorces
Current and Past Property Deeds
Property Records
Business & Corporate Affiliations
Auto-Ownership
UCC Filings
Aircraft Records
Pilot Licenses
Hunting Permits
Weapon Permits
Relatives & Associates
Driver's License Info
Trademarks
Voter Registration Info
Political Contributions
Social Profiles
Criminal Records
And More!
If you want to find more information about a person's criminal history for only $5, our Criminal Records Report can give you information like:
Category
Charges Filed Date
Offense Date & Code
NCIC Code
Offense Description
Counts, Plea
Conviction Date
Place, Sentence or Probation Date
Photo
Court and Court Costs
Disposition
Arresting agency
Case type
Fines
Source Name
While our Bankruptcy's, Liens, and Judgments Report, also only $5, can give you essential details like:
Filing Number
Filing Date
State
Amount
Type
Group
Tax Lien or Bankruptcy Type
Docket Number
Unlawful Detainer (Yes/No)
Initial Date, Amount & Docket
Judgment Date, Amount & Docket
Remove or Dismissal Date & Docket
Asset Amount
Liability Amount
Plaintiff
What Industries Would Benefit
From This Search Functionality?
We believe that any industry can benefit from advanced search technology; better data retrieval can optimize your business, reduce labor and lower costs. Our driver's license lookup in particular has many use-cases for businesses, including:
Fraud Prevention: The detection of false documents and subsequent prevention of identity fraud.
Regulatory Compliance: Help your company comply with regulatory bodies, who may require certain verification processes take place.
Build Better Customer Connections: Foster trust between company and client by confirming their identity and creating a better customer experience.
We've highlighted several industries where our search products could be beneficial by making fact finding easy and efficient. Let's take a look at how InfoTracer Business Solutions can make your job simple and stress-free.
Financial Services
Conducting proper due diligence is a vital part of operating a financial service. Verifying a person's identity can help your company avoid fraud and ensure any investments or partnerships you make are legitimate. With InfoTracer Business Solutions, you can increase your risk assessment abilities and help strengthen your bottom line.
Hotels and Motels
With most hotels and motels requiring some form of identification for lodging, dealing with fake driver's licenses can be a hassle. A comprehensive driver's license lookup can take out the guesswork and help your business avoid fraud. InfoTracer Business Solutions also provides the tools you need to verify an individual's identity; that way, you can be sure your guests aren't impersonating someone else for criminal purposes.
Attorneys
Confirming the identity of individuals and the accuracy of their documentation can be incredibly useful for attorneys. Our search tech can help you vet witnesses, find information about marriages and divorce settlements, and provide the details you need to complete any casework. With InfoTracer Business Solutions, you can make more informed decisions for you and your clients.
Healthcare Providers
Confirming the identity of individuals and the accuracy of their documentation can be incredibly useful for attorneys. Our search tech can help you vet witnesses, find information about marriages and divorce settlements, and provide the details you need to complete any casework. With InfoTracer Business Solutions, you can make more informed decisions for you and your clients.
Insurance Carriers
Insurance carriers have to balance many different tasks to do their job effectively. Whether you are dealing with pricing, managing accounts, or authenticating claims, accurate information is vital. Digging through endless databases and dubious sources can be exhausting; with InfoTracer Business Solutions, you can be sure the information you receive is cross-checked and verifiable. That way, you can give your policyholders the best service possible.
Private Investigators
Despite the portrayal private investigators get in popular culture, car chases and stake-outs are rarely part of an investigator's daily activities. A large part of an investigator's work involves careful research and verifying the authenticity of each piece of information can be arduous. With our search tech, you can ensure that the data you receive is accurate, allowing you to focus on closing cases.
Skip Tracers
Finding runaways and scam artists isn't an easy job; finding anyone who doesn't want to be found takes a considerable amount of information. You need to find personal details about the individuals you have to find, and InfoTracer Business Solutions can provide that data. With our search tech, you can find close relatives, current and past addresses, and many other facts and figures to help you close cases.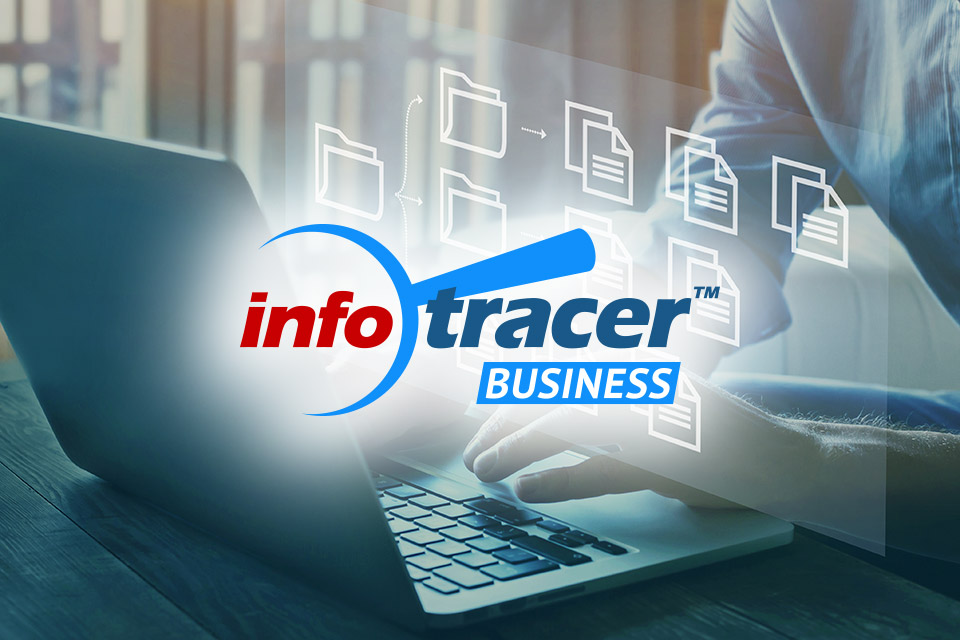 InfoTracer Business Solutions:
Find the Answers You Need
Saving time and money is a priority, but so is having access to the best possible data. Instead of making the difficult choice between reliable information and affordable prices, InfoTracer Business Solutions provides both. Our payment system exceeds industry standards by eliminating the need for subscriptions, monthly minimums, and recurring fees. With us, you only pay for the searches you make.
Using cost-shared access, we can offer you per-search prices like:
Don't be fooled by a fake driver's license ever again. If you want the tools to make better business decisions, we can help; Try InfoTracer Business Solutions today!
Sign Up Today & Receive
$25 Free Search Credits